Posts for tag: tooth colored fillings
By Dr. Mark Shulman
May 30, 2013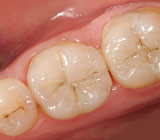 Tooth-colored fillings are just one of the many ways that cosmetic dentistry has evolved over the past few decades. There was once a time where having a cavity treated meant that you would be left with a noticeable metal filling. However, today we have an array of tools and materials available that help make tooth repair more like creating a fine piece of art.
Tooth-colored fillings are made of composite resin, which is a mixture of plastic and glass. Composite resin is not only more aesthetically pleasing, but also better for your teeth than metal fillings. Metal fillings can require your dentist to remove healthy parts of your tooth to create a ledge (undercut) that locks the filling in place. Tooth-colored fillings do not need this undercut to stay in place. In fact, they physically attach, or bond, to natural tooth structure. The procedure is also very simple. We'll apply the composite resin directly to your teeth, sculpt it and then finally harden it with a special light. When you see the results, you will be amazed at how natural and lifelike the restoration appears.
Another advantage of tooth-colored fillings is that they are strong and flexible. When you bite or chew, they will absorb and transfer the forces, just like your natural teeth. Metal fillings are strong, but they are also stiff, which can stress your teeth and make them more susceptible to cracking.
During your examination, we will evaluate if tooth-colored fillings are the best tooth repair option. If your cavity is too large for composite resin, we may recommend a porcelain filling. This procedure may require two appointments: the porcelain filling will be crafted in a dental laboratory, and we will then place this filling at your next visit.
If you would like more information about tooth-colored fillings, please contact us or schedule an appointment for a consultation. You can also learn more by reading the Dear Doctor magazine article "The Natural Beauty of Tooth-Colored Fillings."
By Dr. Mark Shulman
October 22, 2012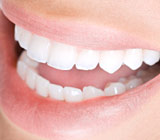 The goal of restorative dentistry is to return the teeth to full form (shape) and function. For years, a key tool for achieving this goal has been through the use of metal amalgams (silver looking dental fillings). However, this technique does have some disadvantages. One is the fact that they can involve removal of healthy tooth structure to retain them. Too much "undercutting" can undermine and weaken a tooth resulting in less resistance to biting forces possibly leading to fatigue fractures and cracked tooth syndrome. Another approach is call "biomimetic" which literally means mimicking life. This approach to dentistry is made possible through the structured use of tooth-like materials such as composite resins. Scientific studies and clinical experience have validated their use as both safe and predictable.
By mimicking life, we rely upon our delicate balance of artistry, experience and expertise to provide you with properly restored teeth that function and wear normally, while appearing indistinguishable from natural teeth. Dental composite are now the most commonly used materials for tooth-colored adhesive restorations and have properties similar to a natural tooth's enamel and dentin. They consist of resin which are plastic and fillers made of silica (a form of glass). The fillers give the composites wear resistance and translucency (see through properties). However, most of the properties of enamel are also mimicked quite well by dental porcelains. Porcelains are a form of ceramic, that are formed by the action of heat. Dental porcelains come in all colors and shades so we can easily and perfectly match the color of virtually any natural tooth. As for longevity, porcelain is typically your best option because it is the closest option in mimicking a natural tooth.
To learn more on this subject, you can continue reading the Dear Doctor magazine article "The Natural Beauty of Tooth Colored Fillings." Or contact us today to schedule an appointment to discuss your specific questions.