Posts for tag: nutrition
By Dr. Mark Shulman
July 08, 2017
Although oral cancer isn't the most prevalent among metabolic diseases, it is one of the most deadly with only a 50% survival rate after five years. That's because it can be difficult to detect in its early stages when treatment is most effective.
That's why prevention to reduce your chances of oral cancer is so important. Many people know quitting tobacco products, including smokeless varieties, and moderating alcohol consumption are key to any prevention strategy. But there's one other factor you should also consider: your diet.
We've learned quite a bit in the last few decades about how certain foods we eat contribute to the cancer disease process. Cancer seems to originate when elements in the body or environment (known as carcinogens) damage DNA, our unique genetic code, on the cellular level. For example, a class of chemicals called nitrosamines is a known carcinogen: we often encounter it in the form of nitrites used to preserve meat (like bacon or ham) or as byproducts in beer, seafood or cheese.
Another form of carcinogen is the unstable molecules produced during normal cellular function called free radicals. But our bodies have a natural neutralizer for free radicals called antioxidants. We obtain these substances in our food in the form of vitamins and minerals. While you can also ingest these in the form of supplements, the best way to obtain them is through a diet rich in plant-based food, particularly fruits and vegetables.
So in addition to lifestyle changes like quitting tobacco or moderating alcohol consumption, make sure your diet is a healthy and nutritious one. Limit your intake of processed foods (especially meats) and increase your portions of fresh fruits, vegetables and dairy products.
And don't neglect practicing effective brushing and flossing each day, along with regular dental cleanings and checkups. All of these healthy practices will greatly decrease your chances for life-threatening oral cancer.
If you would like more information on preventing oral cancer, please contact us or schedule an appointment for a consultation. You can also learn more about this topic by reading the Dear Doctor magazine article "Diet and Prevention of Oral Cancer."
By Dr. Mark Shulman
October 04, 2016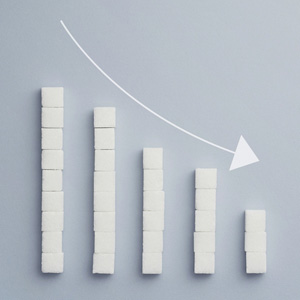 Tooth decay doesn't appear out of nowhere. It begins with bacteria, which produce acid that softens and erodes tooth enamel. Without adequate enamel protection, cavities can develop.
So, one of our prevention goals is to decrease populations of disease-causing bacteria. One way is to deprive them of carbohydrates, a prime food source, most notably refined sugar. That's why for decades dentists have instructed patients to limit their intake of sugar, especially between meal snacks.
Ironically, we're now consuming more rather than less sugar from a generation ago. The higher consumption impacts more than dental health — it's believed to be a contributing factor in many health problems, especially in children. Thirty years ago it was nearly impossible to find a child in the U.S. with type 2 diabetes: today, there are over 50,000 documented juvenile cases.
Cutting back isn't easy. For one thing, we're hard-wired for sweet-tasting foods. Our ancestors trusted such foods when there was limited food safety knowledge. Most of us today still have our "sweet tooth."
There's also another factor: the processed food industry. When food researchers concluded fats were a health hazard the government changed dietary guidelines. Food processors faced a problem because they used fats as a flavor enhancer. To restore flavor they began adding small amounts of sugar to foods like lunch meat, bread, tomato sauce and peanut butter. Today, three-quarters of the 600,000 available processed food items contain some form of added sugar.
Although difficult given your available supermarket choices, limiting your sugar intake to the recommended 6 teaspoons a day will reduce your risk for dental and some general diseases. There are things you can do: replace processed foods with more fresh fruits and vegetables; read food labels for sugar content to make better purchasing decisions; drink water for hydration rather than soda (which can contain two-thirds of your daily recommended sugar allowance), sports drinks or juices; and exercise regularly.
Keeping your sugar consumption under control will help you reduce the risk of tooth decay. You'll be helping your overall health too.
If you would like more information on the effect of sugar on health, please contact us or schedule an appointment for a consultation. You can also learn more about this topic by reading the Dear Doctor magazine article "The Bitter Truth about Sugar."
By Dr. Mark Shulman
April 09, 2014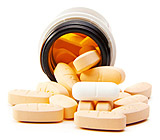 If you've come in to our office lately, chances are you've been asked to fill out a form or answer a question about what medications — both prescription and non-prescription — you are currently using. Of course, if you're taking a blood-pressure drug or a pill to help control your cholesterol, you wouldn't hesitate to put it on the list. But how about those vitamins and herbal supplements you take — do you really have to list those too?
The answer is a definite yes — and some of the reasons why may surprise you. Did you know that many "natural" dietary supplements can have potentially serious interactions with other drugs you may be prescribed? For example, herbal preparations made from the plant called St. John's Wort are often used by people seeking relief from depression or anxiety. However, the active chemical compounds in this herb can interfere with some anesthetic drugs, and may make it harder for you to recover from the effects of anesthesia. Ginkgo biloba and some other commonly used herbs have a similar effect.
Even some vitamins have the potential to cause negative interactions. Large doses of Vitamin E, for example, can increase the risk of internal bleeding in people who are taking blood thinners or non-steroidal anti-inflammatory medications (NSAIDS), such as aspirin and ibuprofen. These medications are commonly prescribed for pain relief after minor dental procedures.
Does that mean you have to stop taking vitamins and herbal supplements if you may need a dental or medical procedure? Not necessarily. Vitamins are indeed vital to your health, and a deficiency in one or more of these important substances can result in serious diseases — like scurvy, which formerly plagued sailors lacking access to fresh fruits and vegetables. If you've been told you have a vitamin deficiency, taking vitamin pills is a must.
But the best way to get the proper amount of vitamins is through a healthy, well-balanced diet rich in fruits, vegetables, and whole grains. Not only does consuming these foods give you the most "natural" source of vitamins — it also provides you with other essential micronutrients and fiber, and it is low in fat and cholesterol.
No nutritional supplement is a substitute for a healthy diet — and that's something we'd like everyone to remember. We'd also like to remind you to tell us about ALL the medications and supplements you're taking, especially if you're going to have a procedure. Giving us complete information will help ensure that you'll remain as healthy and safe as possible.
If you have questions about dietary supplements, nutrition and your teeth, please call our office to arrange a consultation. You can learn more in the Dear Doctor magazine article "Vitamins & Dietary Supplements: What Every Consumer Should Know."