Posts for tag: laser dentistry
By Dr. Mark Shulman
July 25, 2017
As in other parts of medicine, lasers are beginning to change the way we provide dental care. More and more dentists are using lasers to make earlier diagnoses of dental disease or provide surgical treatment. One area prime for change is the treatment of teeth with deep decay and in danger of being lost.
For decades now, the best way to save teeth in this condition is with root canal treatment. In this common procedure we access the pulp, remove the infected tissue with specialized hand instruments, and then fill and seal the pulp chamber and root canals with a special filling.
We can now potentially improve the efficiency and increase the success rate of this treatment with laser technology. With their focused light, lasers emit a concentrated burst of energy that's extremely precise. In many instances laser energy can remove the target diseased tissue without damaging nearby healthy tissue.
In this form of root canal treatment, we use lasers to remove tissue and organic debris within the pulp and then shape the root canal walls to better receive the filling. We can also utilize the heat from laser energy to soften and mold the filling, so that it better conforms within the walls of the root canals.
Using lasers in root canal treatments may require less local anesthesia than the traditional approach and also eliminates disturbing or discomforting sounds and vibrations. Dentists who've used the new technology also report less bleeding during the procedure and less pain and occurrences of infection afterwards.
But there are a couple of disadvantages for using lasers in root canal treatment. For one, light travels in a straight line — and many root canal networks are anything but straight. More complex root canal networks may still require the traditional approach. Laser energy could also increase the tooth's inner temperature, which could potentially damage tissues even on the tooth's outer surfaces.
Used in the right circumstances, though, lasers can be an effective means to treat diseased teeth. Â As laser technology continues to advance and becomes a mainstay in dental care, you may soon find it part of your next dental procedure.
If you would like more information on root canal treatments, please contact us or schedule an appointment for a consultation.
By Dr. Mark Shulman
August 24, 2016
Root canal treatments are an essential part of dental care — countless teeth with deep decay would be lost each year without it. Now, this traditional dental care procedure is advancing to a new level of precision through lasers.
Root canal treatments have a simple goal: access a tooth's infected pulp and root canals, clean out the infected tissue and fill the empty pulp chamber and canals with a special filling. Once filled, the access is sealed and a porcelain crown later placed for additional protection against re-infection.
In the traditional procedure, we perform these steps manually with a dental drill and hand instruments. We may also need to remove a good portion of tooth structure, both healthy and infected tissue. A laser, on the other hand, is a highly focused beam of light with the ability to interact with healthy and infected tissues differently: destroying infected tissue while having no effect on nearby healthy tissue. The end result: we may be able to remove less healthy tissue with lasers than with the conventional procedure.
Lasers are also helpful with softening and precisely molding the filling material within each canal's particular shape. And, early reports seem to indicate a higher degree of comfort for patients (less drill noise and need for anesthesia), less bleeding and faster recovery times than the conventional approach.
But as a tool for root canal treatments, lasers do have a couple of disadvantages. While light travels in a straight line, root canals are rarely straight — conventional instruments with curved designs usually accommodate odd canal shapes better than a laser. Lasers can also raise temperatures within a tooth that can damage healthy tissue, both within the pulp and outward into the dentin.
Still, lasers for root canal treatments appear promising with some dentists using a combination of lasers and manual techniques to garner benefits from both approaches. While you won't see lasers replacing the traditional root canal treatment anytime soon, the future looks bright for more efficient ways to treat deep tooth decay.
If you would like more information on your options for root canal therapy, please contact us or schedule an appointment for a consultation.
By Dr. Mark Shulman
January 25, 2016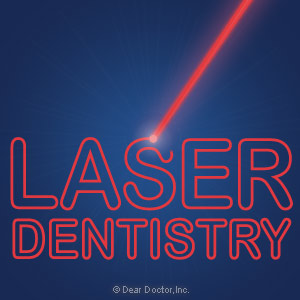 Lasers have transformed our everyday lives, especially in healthcare. These intense beams of light of a single wavelength have revolutionized all manner of diagnostics and treatments, from general surgery to cosmetic therapy.
Dentistry has also been influenced by the laser revolution. Here are just a few of the areas where they're growing in use and popularity.
Early disease detection. Laser instruments can take advantage of "fluorescence," the tendency of bacteria to "glow" when exposed to certain wavelengths of light. This is proving more effective in detecting early tooth decay in pits and fissures (very tiny areas in a tooth's biting surface) than traditional needle-like probing instruments called dental explorers. Newer lasers can now detect the same fluorescent qualities in soft tissues, which may reduce the detection time for oral cancer and make the difference between life and death.
Dental caries treatment. Lasers have become an alternative to the dental drill in treating teeth with dental caries (decay). Although with larger cavities lasers are somewhat slower than the conventional drill, they truly shine when it comes to early enamel caries and small cavities because they can be quite precise in the amount of tooth structure they remove. This feature allows them to be less invasive than a dental drill.
Periodontal treatment. Periodontal (gum) disease is an infection caused mainly by bacterial plaque and calculus (hardened plaque deposits) that have adhered to tooth surfaces. Lasers are emerging as an alternative to conventional periodontal (gum) surgery to treat voids or spaces below the gum line called periodontal pockets that have formed because of gum tissue detachment as supporting bone is lost. With their ability to target and destroy infected tissue without damaging nearby healthy tissue, lasers can achieve similar outcomes as traditional techniques but with less tissue damage and discomfort to patients afterward.
Research and development into laser technology continues to perfect these and other applications that promise to make dental procedures less invasive and more comfortable for patients.
If you would like more information on the use of lasers in dentistry, please contact us or schedule an appointment for a consultation.