Posts for tag: fillings
By Dr. Mark Shulman
December 07, 2015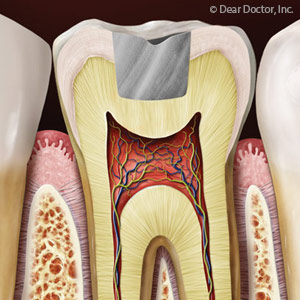 Recently, a number of new filling materials that mimic tooth color have come into popular use and, so far, have proven more durable than past versions. Even so, the traditional metal-based dental amalgam remains a viable choice, especially for less visible back teeth and their higher biting forces.
Used for more than a century, dental amalgam is a metal alloy composed of silver, mercury, tin and copper. The mixture is carefully proportioned so that potentially hazardous mercury is kept to a minimum and bonded with the other metals. Amalgam in its initial form is quite pliable so that it can be molded into the tooth structure under repair. Afterward it sets hard to form a durable filling that can withstand the daily force generated when we bite and chew food.
Besides durability, dental amalgam rarely causes an allergic reaction in a patient, and it's easy for trained dentists to apply. On the downside, however, it can cause temporary temperature sensitivity in the tooth just after filling, and the tooth itself may require some removal of healthy structure to help keep the filling in place. And from an aesthetic point of view, its metallic appearance is considered unattractive especially for front teeth.
The presence of mercury in amalgam has also raised concerns over the years. "Free" mercury — atoms that escape through vapor emitted by the metal — can enter the bloodstream and potentially harm the nervous system. But after extensive study and research, U.S. and international health bodies including the American Dental Association have concluded any free mercury released during chewing is extremely low and well below any harmful levels. These studies have also found no ill effects in either children or adults with dental amalgam fillings.
Deciding on the type of filling material to use — dental amalgam or a newer composite resin, resin ionomer or glass ionomer — depends on a number of factors including the location of the teeth to be filled, the extent of decay and your personal preferences. Taking these into account, we'll be happy to discuss which type of filling will suit you best for repairing decayed teeth.
If you would like more information on filling material options including dental amalgam, please contact us or schedule an appointment for a consultation. You can also learn more about this topic by reading the Dear Doctor magazine article "Silver Fillings — Safe or Unsafe?"
By Dr. Mark Shulman
April 14, 2015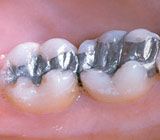 Metal amalgam fillings for dental caries have been used since the mid 19th Century. Although newer, "natural color" filling materials have become available, amalgam remains a standard choice among dentists.
Dental amalgam is a metal alloy created by carefully combining exact proportions of mercury, silver, tin and copper. Though quite pliable when first mixed, the alloy eventually sets into a very hard substance that stands up well against the forces produced by the mouth's natural chewing function. The presence of mercury, however, has raised concerns for some that the metal's toxic properties pose a risk to the patient's health.
But after decades of research, the American Dental Association and other health organizations have concluded that dental amalgam "is a safe, reliable and effective restorative material." Studies have determined that any free molecules of mercury that could potentially enter the bloodstream are trapped in the set amalgam. And although the amalgam can release mercury vapor during chewing, the amounts are well below the levels considered harmful.
Dental amalgam has proven to be versatile, effective and economical. It doesn't create an allergic reaction, is quite durable, and doesn't interfere with normal chewing function. It does, however, have its drawbacks. Its use can require more tooth material to be removed to keep the fillings in place, and they can increase temperature sensitivity during the initial four to six weeks. And, of course, their metallic appearance, especially when used in more visible front teeth, reduces their aesthetic appeal.
Other, more cosmetically appealing types of filling material have been developed over the years. These include composite resin fillings, a mixture of glass or quartz in a resin medium; glass ionomers, made of acrylic acids and fine glass powders and best used in areas not subject to heavy chewing; and resin ionomers, similar to glass ionomers but with the addition of acrylic resin. Each of these has their advantages and disadvantages (as well as cost considerations), but they're main advantage over amalgam is their mimicry of natural tooth color.
The choice of either dental amalgam filling or one of the tooth-color alternatives depends on what you may need and can afford. Rest assured, though, that if the choice is dental amalgam, this restoration workhorse can provide you years of safe and effective service.
If you would like more information on your options for tooth fillings, please contact us or schedule an appointment for a consultation. You can also learn more about this topic by reading the Dear Doctor magazine article "Silver Fillings."
By Dr. Mark Shulman
October 22, 2012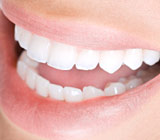 The goal of restorative dentistry is to return the teeth to full form (shape) and function. For years, a key tool for achieving this goal has been through the use of metal amalgams (silver looking dental fillings). However, this technique does have some disadvantages. One is the fact that they can involve removal of healthy tooth structure to retain them. Too much "undercutting" can undermine and weaken a tooth resulting in less resistance to biting forces possibly leading to fatigue fractures and cracked tooth syndrome. Another approach is call "biomimetic" which literally means mimicking life. This approach to dentistry is made possible through the structured use of tooth-like materials such as composite resins. Scientific studies and clinical experience have validated their use as both safe and predictable.
By mimicking life, we rely upon our delicate balance of artistry, experience and expertise to provide you with properly restored teeth that function and wear normally, while appearing indistinguishable from natural teeth. Dental composite are now the most commonly used materials for tooth-colored adhesive restorations and have properties similar to a natural tooth's enamel and dentin. They consist of resin which are plastic and fillers made of silica (a form of glass). The fillers give the composites wear resistance and translucency (see through properties). However, most of the properties of enamel are also mimicked quite well by dental porcelains. Porcelains are a form of ceramic, that are formed by the action of heat. Dental porcelains come in all colors and shades so we can easily and perfectly match the color of virtually any natural tooth. As for longevity, porcelain is typically your best option because it is the closest option in mimicking a natural tooth.
To learn more on this subject, you can continue reading the Dear Doctor magazine article "The Natural Beauty of Tooth Colored Fillings." Or contact us today to schedule an appointment to discuss your specific questions.