Posts for tag: diabetes
By Dr. Mark Shulman
November 24, 2017
People with diabetes have special concerns when it comes to dental care. In fact, 1 in every 5 cases of total tooth loss is linked to this widespread health condition. November is National Diabetes month, so it's a good opportunity for us to answer some frequently asked questions about oral health and diabetes.
Q. Can I get a dental implant to replace a missing tooth even if I have diabetes?
A number of studies have shown that people with diabetes can be good candidates for dental implants, but there are some concerns regarding dental implant treatment, which involves minor surgery. Wounds tend to heal more slowly in people with diabetes, who are also more infection-prone than those without diabetes. In diabetic individuals with poor glucose control, research has also shown that it takes longer for the bone to heal after implant placement. We will take these (and other) factors into account when planning your implant treatment. However, in many situations even poorly controlled diabetes does not necessarily preclude dental implant treatment.
Q. I've heard people with diabetes have a higher risk for gum disease. Is that true?
Yes. Research shows that people with diabetes are more susceptible to periodontal (gum) disease, especially when their diabetes is poorly controlled. The reverse is also true: untreated periodontal disease can worsen blood sugar levels. So it's important to manage both of these inflammatory conditions. If you notice the early signs of gum disease, such as inflamed or bleeding gums, please bring this to our attention. Early gum disease (gingivitis) is much easier to treat than more advanced forms—which can eventually lead to tooth loss.
Q. If I have diabetes, how can I protect my oral health?
Keep doing your best to control your blood sugar levels with exercise and a healthy diet—and stick to an effective daily oral hygiene routine, which includes both brushing and flossing and coming in for regular dental checkups and cleanings. Make sure to let us know what medications you are taking and update us on any changes. If you notice any mouth sores, swelling or inflammation, bring this to our attention as soon as possible.
If you have additional questions about diabetes and oral health, please contact us or schedule an appointment for a consultation.
By Dr. Mark Shulman
October 27, 2015
Today, dental implants are an increasingly popular option for replacing lost teeth — an issue faced by many older Americans. It's not hard to see why these high-tech prosthetic teeth are preferred: They look, "feel" and function just like natural teeth… and with proper care they can last the rest of your life. Unfortunately, many people who could benefit from implants also face an additional health problem: diabetes, a metabolic disease that can affect many different parts of the body, sometimes severely.  Uncontrolled diabetes can lead to nerve and tissue damage, and may adversely impact your oral health. So if you have diabetes, does it mean you won't be able to get dental implants? 
The short answer is no — but there are some considerations that diabetics (and their health care providers) need to keep in mind. For example, it has been demonstrated that wounds in diabetics tend to heal more slowly, and are more prone to infection than those in non-diabetics. Also, people with diabetes sometimes experience a chronic inflammatory response, which can eventually lead to tissue damage or other problems.
Because the placement of dental implants requires minor surgery, dentists and researchers have questioned whether people with diabetes are good candidates for implants. Now there's encouraging news: Several recent studies have come to the conclusion that many diabetics can indeed undergo an implant procedure without undue risk.
One key consideration is how well an individual can control his or her blood glucose levels. Researchers have found that diabetics with good blood glucose control, those with poor glucose control, and non-diabetics all have similar implant success rates (above 95%). However, in diabetics with poor glucose control, more time may be needed for the jawbone to heal in the area where the implant procedure was done. That doesn't by any means rule out the placement of a dental implant — but it does mean that special considerations apply to individuals in this situation.
So if you are considering an implant procedure but have trouble controlling your blood glucose levels, ask us how we can help. Just remember that in most cases, having diabetes doesn't mean you won't be able to enjoy the benefits of dental implants. If you have additional questions, contact us or schedule an appointment.
By Dr. Mark Shulman
February 08, 2012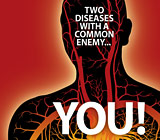 Both diabetes and gum (periodontal) disease are chronic inflammatory diseases that have negative consequences for millions of people worldwide. But before we continue, let's define these two diseases:
Periodontal disease is a condition in which biofilms of dental bacterial plaque stick to teeth near the gum lines causing the gum tissues to become inflamed and infected. If not treated properly and in an early stage, it can cause severe damage to the bone that supports the teeth, resulting in tooth loss. It occurs in the absence of good oral hygiene which includes ineffective daily brushing and flossing and neglecting to see your dentist.
Diabetes is a chronic condition in which blood glucose (sugar) levels become excessive. Glucose is the body's main source of sugar for energy. The hormone insulin, among other mechanisms, normally controls glucose. Prolonged elevated blood sugar levels are harmful and ultimately can even be life threatening if left untreated. With type 1 diabetes, insulin injections (shots) are required to maintain the proper blood sugar levels because the body no longer produces its own blood sugar. Type 2 diabetes is generally less severe and can usually be treated with a combination of diet and medication.
And while both of these diseases share the same common enemy, you, there is scientific evidence revealing links between the two. Diabetes increases the risk factor for developing periodontitis, and conversely, periodontal disease makes it more difficult for diabetics to control blood glucose levels.
Want To Learn More?
Learn more about these two diseases and their relationship by reading, "Diabetes & Periodontal Disease." Or if you have diabetes but haven't had a dental exam and cleaning in a long time, contact us today to schedule a consultation. You can also use this consultation to discuss any questions or concerns you have about your oral health and its relationship to your diabetes.