Posts for tag: dental emergencies
By Dr. Mark Shulman
December 01, 2014
A recent study revealed that on average there are 22,000 dental injuries in children under the age of 18. This alarming reality makes it clear that parents, caregivers, and coaches need to understand the risks for dental injuries so that they are best equipped to prevent them...or at least be prepared to manage one should it occur. The four most common categories for measuring risks associated with sports injuries are:
Age: Age is an important factor when accessing risk. Sports-related dental injuries tend to spike during the teenage years. Recent research shows that children under the age of 13 tend to not be injured as often.
Gender: Gender is probably the second most influential factor. The facts are that males top the list for experiencing dental injuries during sports or vigorous activities. However, more and more females are playing highly competitive and contact sports or activities; thus, their risk of injury is increasing.
Shape and position of your teeth: Both the condition and positions of the teeth affect their risk of injury. More prominent or "buck" teeth are considered a higher risk for injury than teeth in a more normal position. Furthermore, 80% of all dental injuries involve the upper front teeth.
Sports type: This last category is the one most often asked about, as parents, caregivers and athletes want to know which sports or activities have the highest risks for dental injuries. And while baseball and basketball top the list, the American Dental Association (ADA) has put together a comprehensive list of sports and activities. To review this list, read the Dear Doctor article, "Athletic Mouthguards." The ADA also urges athletes to wear professionally-fitted mouthguards to protect against dental and facial injuries.
Knowing the above categories can help you assess your risk for a dental injury while playing in a sport or recreational activity. To learn more about sports-related dental injuries, read, "An Introduction To Sports Injuries & Dentistry." Or if you have a traumatized, damaged, chipped or missing tooth from a sports or any other type of injury, contact us to discuss your situation or to schedule an appointment.
By Dr. Mark Shulman
August 14, 2013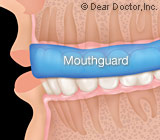 Whether you are a serious or "weekend" athlete, you know the importance of protecting yourself against injury. While looking after your joints, ligaments and bones may garner most of your attention, you shouldn't neglect looking after your teeth and mouth as well. In fact, there are more than 600,000 emergency room visits each year for sports-related dental injuries. A knocked out tooth could eventually cost you $10,000 to $20,000 in dental treatment during your lifetime.
The best protection is really quite simple — wear a properly-fitted athletic mouthguard. Researchers estimate that mouthguards may prevent more than 200,000 dental injuries annually. Be aware, though — not all mouthguards are alike or provide the same level of protection.
Mouthguards generally fall into three types. Stock mouthguards are the least expensive of the three, and also the least effective at protection. They come in limited sizes and can't be customized to the wearer. "Bite and Boil" mouthguards are made of thermoplastic that becomes pliable when heated (as when boiled in water). In this state the mouthguard can be pressed into the wearer's teeth, which hardens to that fit once the thermoplastic cools. However, the fit isn't exact and they don't always cover the back teeth. Also during the heat of competition, the mouthguard softens and loses some of its stability and protection.
While more expensive than the other two types, a custom-fitted mouthguard made by a dentist provides the best level of protection. Made of a tear-resistant material, they are more comfortable to wear than the other types and cover more of the interior of the wearer's mouth.
A properly fitted and worn mouthguard protects the mouth and jaw area in a number of ways. It cushions the soft tissue of the lips and gums from cuts and abrasions caused by contact with sharp teeth surfaces after an impact. It absorbs and distributes forces generated in an impact that can cause tooth loss or even jaw fracture, and also cushions the jaw joint (TMJ) to reduce the likelihood of dislocation or other trauma.
A custom-fitted mouthguard can cost hundreds of dollars, but that price is relatively small compared with the physical, emotional and financial price you'll pay for an injury. This investment in your oral health is well worth it.
If you would like more information on the use of athletic mouthguards, contact us or schedule an appointment for a consultation. You can also learn more about this topic by reading the Dear Doctor magazine article "Athletic Mouthguards."
By Dr. Mark Shulman
July 17, 2012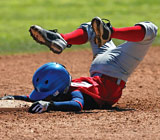 Every parent, caregiver, coach, sports fan and especially injured party dreads the moment when an injury to the mouth occurs during a sporting event. The first thought observers have after looking closely to see if it is their child or someone they know is, "I hope someone knows what to do!" Do you know what to do in case of a dental sports emergency? Test your dental injury IQ with this simple, quick quiz. The answers are listed at the bottom of this article.
Dental Injury IQ
If a tooth (including its root) is totally knocked out, what can you safely store it in while finding a dentist within 5 minutes of the injury?

Water or salt water
Milk (preferably cold)
Inside the cheek (mouth) of the injured person
All of the above

True or False: Immediately following the injury, fresh cold tap water or bottled water is the best way to remove debris from where a tooth was knocked out.
If a tooth has shifted from its original position following an injury, you should...

See a dentist within 5 minutes
See a dentist within 6 hours
See a dentist within 12 hours
Only see a dentist if the tooth is not better in a few days

True or False: You treat a knocked out baby tooth in the same manner as you do a permanent tooth.
The most important thing to do to save a tooth that has been completely knocked out of the mouth is to…

See a dentist as soon as possible
Replant the tooth within 5 minutes
Stop the bleeding before re-planting the tooth
Rinse the tooth with fresh, clean water
The Answers
1) d = all of the above, 2) true, 3) b = see a dentist within 6 hours, 4) false – baby teeth are typically not replanted, 5) b = replant the tooth within 5 minutes
Want To Learn More?
Contact us today to discuss your questions or to schedule an appointment. You can also learn more about treating dental injuries when you read the Dear Doctor article, "The Field-Side Guide To Dental Injuries." Or, you can download a FREE, pocket-sized guide for managing dental injuries.