Posts for tag: celebrity smiles
By Dr. Mark Shulman
January 13, 2012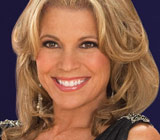 Describing Vanna White, co-host of the hit television game show Wheel of Fortune as friendly is an understatement. Yes, a good portion of the credit goes to her bubbly personality; however, you can't look at her without noticing her world-famous smile.
During an interview with Dear Doctor magazine, Vanna shared some of the secrets to her trademark smile. Secrets that she is instilling in her children.
"I floss every day and I brush my teeth at least twice a day — morning and night — and sometimes after lunch." She added, "I think that flossing is the most important thing. I believe that dental floss helps a lot, as it keeps your gums strong and looking younger." And when asked about how often she has her teeth professionally cleaned she replied, "...every four to five months because I get a lot of plaque buildup."
A typical dental hygiene visit is one that involves prophylaxis, a dental (and insurance) term for scaling and or polishing procedures to remove plaque and calculus (tartar) from the crown or portion of the tooth that you can see. Scaling is a procedure where we use special hand-held instruments and/or ultrasonic scalers to remove plaque, bacteria and tartar that can coat your teeth causing them to feel rough or fuzzy. To polish your teeth, we use a rubber polishing cup, prophy paste and a motorized instrument that removes bacterial plaque and surface stains. This is usually the last portion of a routine cleaning because it leaves your teeth feeling smooth and shiny.
However, if you have been seeing blood when you brush your teeth or while flossing, you have the telltale signs of periodontal (gum) disease. During your cleaning appointment, we will clean below the gum line to treat and manage your periodontal disease (an infection of the gum and jaw bones). We may also discover that additional, deep-cleaning treatments (such as root planing) may be needed to treat and manage your periodontal disease.
To learn more about this topic, continue reading the Dear Doctor magazine article "Teeth Polishing." Or you can contact us today to schedule an appointment so that we can conduct a thorough examination and cleaning. And if you want to read the entire feature article on Vanna White, continue reading "Vanna White."
By Dr. Mark Shulman
December 25, 2011
Perhaps you've seen Nate Berkus on The Oprah Winfrey Show or watched his television program, The Nate Berkus Show. You may even have read his best-selling book, Home Rules: Transform the Place You Live Into a Place You'll Love. Regardless of where or how you discovered Berkus, you will surely have noticed his dazzling smile.
Berkus recently opened up about the facts behind his trademark smile during an interview with Dear Doctor magazine. First off, his smile is totally natural, as he never wore braces or had any cosmetic work, including porcelain veneers. However, Berkus does give credit to his childhood dentist for the preventative healthcare he received as a young boy. "I'm grateful for having been given fluoride treatments and sealants as a child," he said. Nate also shared the important flossing advice he learned from his dentist that he still follows today: "Floss the ones you want to keep." Berkus went on to say that he feels, "healthy habits should start at a young age."
And we totally agree! For this reason we have put together the following list of facts and oral hygiene tips:
Over 50% of plaque accumulation occurs in the protected areas between teeth — a place that may be difficult or even impossible to reach with a toothbrush.
A thorough brushing may take up to two minutes at first, and it may feel awkward as you reach some places in your mouth.
Remember, more is NOT always better! Brushing or flossing too hard can be damaging to your teeth and gums. And never saw back and forth with your floss.
To learn more about oral hygiene, including brushing and flossing techniques, you can continue reading the Dear Doctor article "Oral Hygiene Behavior - Dental Health For Life." Or you can contact us today to schedule an appointment so that we can conduct a thorough examination, review your brushing and flossing techniques, and discuss any questions you have as well as treatment options. As needed, we will work with you to teach you the proper brushing and flossing techniques so that you feel confident before you leave our office. And to read the entire interview with Nate Berkus, please see the Dear Doctor article "Nate Berkus."
By Dr. Mark Shulman
December 18, 2011
As a Pro Football Hall of Famer and first runner up on the hit television show Dancing with the Stars, Jerry Rice has a face and smile that truly has star quality. However, that was not always the case. During an interview with Dear Doctor magazine, the retired NFL pro discussed his good fortune to have had just a few minor dental injuries throughout his football career. He went on to say that his cosmetic dentist repaired several of his chipped teeth with full crowns. Rice now maintains his beautiful smile with routine cleanings and occasional tooth bleaching.
If you have chipped, broken or missing teeth, or are considering a smile makeover, we want to know exactly what you want to change about your smile, as the old adage is true: Beauty is in the eyes of the beholder. This is one reason why we feel that listening is one of the most important skills we can use during your private, smile-makeover consultation. We want to use this time to ensure we see what you see as attractive and vice versa so that together we can design a realistic, achievable blueprint for your dream smile.
For this reason, we have put together some questions you should ask yourself prior to your appointment:
What do you like and dislike about the color, size, shape and spacing of your teeth?
Do you like how much of your teeth show when you smile and when your lips are relaxed?
Are you happy with the amount of gum tissue that shows when you smile?
Do you prefer a "Hollywood smile" with perfectly aligned, bright white teeth, or do you prefer a more natural looking smile with slight color, shape and shade variations?
To learn more about obtaining the smile you want, continue reading the Dear Doctor magazine article "Great Expectations — Perceptions In Smile Design." Or you can contact us today to schedule an appointment so that we can conduct a thorough examination and discuss your cosmetic and restorative dentistry treatment goals. And if you want to read the entire feature article on Jerry Rice, continue reading "Jerry Rice — An Unbelievable Rise To NFL Stardom."