Posts for: June, 2013
By Dr. Mark Shulman
June 26, 2013
There is nothing pleasant about having a loose tooth. It can be very unsettling to feel your tooth move around, and you may be worried about losing the tooth entirely. If you notice any looseness in your teeth, you should make an appointment with our office immediately, so that we can determine the underlying cause.
There are two reasons for loose teeth, and most often, this looseness is actually a late symptom of gum (periodontal) disease. If left untreated, this disease destroys the supporting structure of your teeth, including the bone. As bone loss progresses, teeth gradually become looser, and if you do not seek treatment, this can ultimately result in tooth loss.
Another less common reason for loose teeth is excessive biting forces, including clenching or grinding of the teeth. These biting forces are outside the normal range of functional pressures and can stretch the periodontal ligaments that join the teeth to the supporting bone, resulting in loose teeth.
In both cases, this condition can be classified as "occlusal (bite) trauma." When we examine you, we will determine the type of occlusal trauma that you have.
If the amount of bone supporting your teeth is normal and excessive force is causing your loose teeth, it then is referred to as primary occlusal trauma. Our treatment approach will focus on reducing the biting forces. We may recommend minor bite adjustments and/or custom mouthguards.
Secondary occlusal trauma occurs when gum disease has caused excessive bone loss. In this instance, even normal biting forces can be damaging. We will work with you to treat the gum disease and improve your oral hygiene efficiency to heal your gums. Once the gum tissue heals and the inflammation is reduced, it is likely that there will be some tightening of the teeth. We will then adjust the biting surfaces of your teeth. This is accomplished by carefully reshaping (by drilling) small amounts of your tooth's surface enamel to change the way upper and lower teeth contact each other, thus redirecting forces. Secondary occlusal trauma may also require splinting or joining teeth together, so that they can handle biting pressures. The need for this additional procedure will be determined by your response to treatment and how much mobility of the teeth remains after the inflammation is resolved.
If you would like more information about loose teeth, please contact us or schedule an appointment for a consultation. You can also learn more by reading the Dear Doctor magazine article "Loose Teeth: Biting Forces Can Loosen Teeth."
By Dr. Mark Shulman
June 13, 2013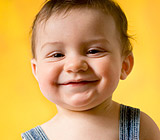 Did you know that the American Academy of Pediatric Dentistry recommends that all children have their first dental visit by the age of one? You might be surprised by this recommendation, since most children do not have many teeth at this age. However, it is important to start your child early on the path of good oral health!
Here are a few things you can expect from this first dental visit:
Developing a Rapport. Much of this visit will be dedicated to helping your child to feel at ease in our office. We'll spend time talking to your child, so that he or she is comfortable sitting in the dental chair and being examined.
Looking for Signs of Decay. During the comprehensive examination, we'll be looking for any signs of tooth decay and conducting a risk assessment for potential future cavities. Keep in mind that baby teeth serve as guides for your child's permanent teeth, so it is vital that you take proper care of them. You may not know it, but your child's permanent teeth are already forming beneath the gums, and if teeth are lost early, there is a higher risk for orthodontic problems later in life.
Reviewing Oral Hygiene Techniques. We would like this visit to be instructional and informative for you. Feel free to ask any questions that you have about caring for your child's teeth. In addition, we'll take some time during this visit to review with you the correct way to brush your child's teeth.
Talking about Oral Health Habits. We'll also spend a portion of this appointment doing a bit of fact gathering to ensure that you're not inadvertently doing anything that promotes decay, such as leaving a baby bottle with a sugary substance in your child's crib at night.
If you would like more information about the age one dental visit, please contact us or schedule an appointment for a consultation. You can also learn more by reading the Dear Doctor magazine article "The Age One Dental Visit."